Training Center
The goal of Adler Solar Works "PV Training Center Yokohama" is to provide systematic training for engineers to perform professional services involved in Solar Power Plants from designing to O&M. This project is part of the worldwide dena Renewable Energy Solutions Programme coordinated by Deutsche Energie-Agentur (dena) – the German Energy Agency – and a Japan-Germany joint project.
The training center is equipped with dedicated power station with a range of PV module technologies with the latest meteorological sensors and monitoring systems to provide hands-on training. ASW's unique curriculum offers systematic technology teaching for O&M engineers at different levels.
Trainings available for:
Partner companies.
Training curriculum
Simulation and yield assessment
Module inspection
Construction and installation check
O&M services (regular inspection and corrective maintenance)
Preventive maintenance and corrective actions
Purpose of Yokohama Training Center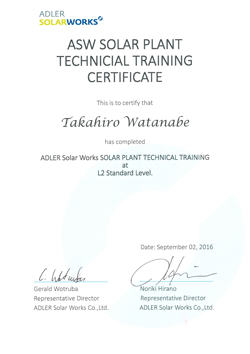 ・To provide training for professional engineers who plays the key role in performing range of services involved in plant engineering, inspection, assessment and O&M, which will ultimately improve the service quality of within the market.
・To offer uniform excellent service including nation-wide plant operation in collaboration with partner companies.
・ASW Solar Plant Technical Training Certificate is issued to engineers who complete the trainings at Yokohama Training Center and pass the assessment.
*1) dena: Deutsche Energie-Agentur GmbH, German Energy Agency is a subordinate organization of the Federal Ministry for Economic Cooperation and Development of Germany.
Lecture at designated power station at Yokohama Training center
IR measurement
Classroom lecture
Lecture on yield assessment
Training completion
Certification presentation