Message from CEO
ADLER Solar Works was established in Yokohama with its mission to provide "complete services for a solar plant and to the next generation by bringing professional O&M verified in Europe to Japan". Our business theme is to pass on social infrastructure to the future, in full compliance with the iEC standards. We are looking forward for collaborations with partner companies who are enthusiastic about the top industry standards in Japanese PV market.
PROFILE
Noriki Hirano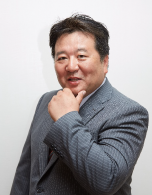 Holder of BA in Law from Chuo University, Noriki has more than 25 years in launching and management of international business. He has led several global roaming service development projects, contributing to expansion of universal communication infrastructure. In 2007 he was appointed as Vice President for a former German national telecommunication carrier in Japan. He was also a project manager for a Chinese communication manufacturer actively involved in introduction of 4G systems.
*Gerald Wotruba resigns as planned end of May 2017 as Representative Director of ADLER Solar Works in Japan.